Recharging your AC may be a temporary fix to what could be a much bigger problem. Baggett Heating and Cooling wants you to know why recharging your AC is not considered routine maintenance and what to look for when deciding whether or not to give us a call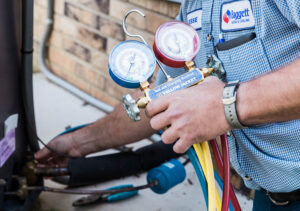 Getting an AC recharge is not considered routine maintenance because when operating properly the system should not leak out or lose refrigerant. Refrigerant systems in AC units are sealed, and should only require recharging when an associated repair is made. Yearly routine maintenance includes our technicians monitoring the operation of the refrigeration components of the system. Diagnostic measurements and visual inspections are part of this monitoring.
Here are some signs to look for to determine if you should have a service call or "Diagnostic Call" by a Baggett technician:
If the system is not maintaining the temperature the thermostat is set for
If you notice a buildup of ice on your unit or the copper tubing connecting the indoor to outdoor equipment.
If your unit is blowing room temperature air or there is no airflow coming out of the registers
While it might be worrisome to think of a new unit's cost, the expense of replacing the parts, repairing the leaks, recharging the system, and the labor to make these repairs can add up. While the leaking part may be under warranty, the manufacturer's warranty does not cover the specialized tools, removal, and recycling of old refrigerant or the labor to make the repairs. It is common that once a refrigerant leak repair is diagnosed that many homeowners consider a complete replacement.
In some cases, recharging the refrigerant and not repairing the leak is a viable option for a homeowner. Baggett technicians will explain all the options available and their professional opinion as to what option best fits their particular situation. We simply want to ensure homeowners know that while recharging is an option, it is a band-aid, temporary fix, and not a permanent fix. There is also no warranty on a refrigerant recharge in a system with a leak. It could last a year (or more), a month, a week, or maybe only a day.
As temperatures start to rise, make sure your AC unit is in top shape and ready for the summer heat. Baggett recommends having regular maintenance performed on your HVAC system. Learn more about routine maintenance and join Baggett's Preferred Customer Maintenance Club.
Baggett Heating & Cooling has been serving the Clarksville/Montgomery County area for over 40 years. Contact us by phone, text, or email.