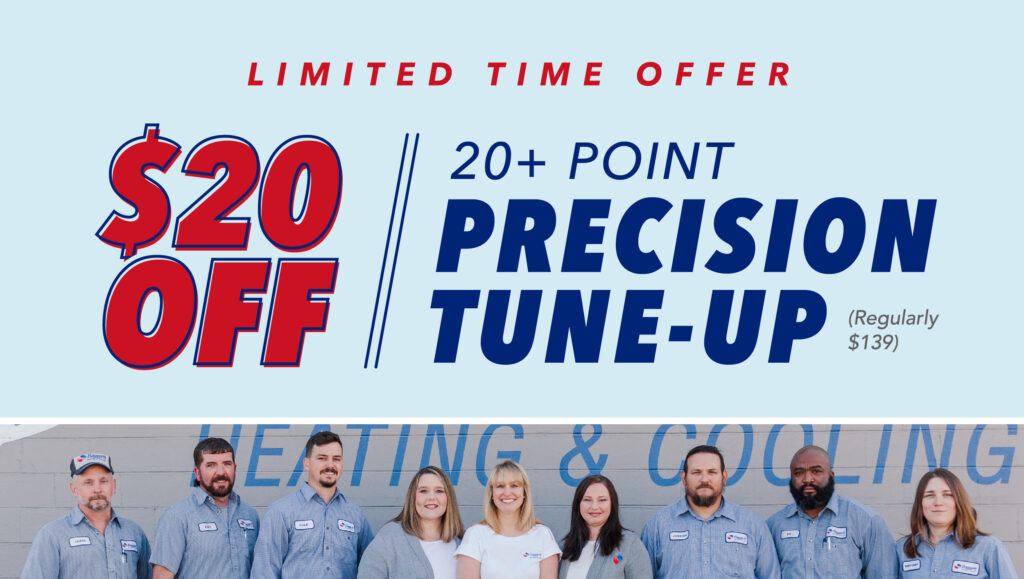 To schedule your precision tune-up, call or text (931)645-2859.
Your heating and air conditioning system requires proper maintenance. When you allow our professional technicians to maintain your unit, it will run at a higher level of efficiency, reducing repairs, and heating and cooling costs.
Precision Tune Up Checklist:
Inspect filtration
Clean any debris inside the system
Clean and adjust burner assembly
Clean ignition assembly
Inspect heat exchanger or elements (if accessible)
Inspect blower components
Clean evaporator coil (if accessible)
Clean condenser coil
Clean condensate drains
Monitor refrigerant pressure
Monitor air flow
Measure volts / amps
Measure temperature difference
Test safety controls
Test starting capabilities
Tighten electrical connections
Adjust thermostat calibration
Inspect duct system leakage or failure

Must book by December 31, 2021. Coupon must be presented at time of service. No cash or refund value. Cannot be combined with any other offer. Restrictions may apply. Cannot be used for warranty processing fee.